10.What is an off grid system, hybrid system, on grid system?
(1) What is a Hybrid off grid system?
A standalone photovoltaic system refers to a system, which is not connected to the utility grid. The electricity you consume comes solely from energy generated via PV arrays. These types of systems store the surplus of energy in batteries.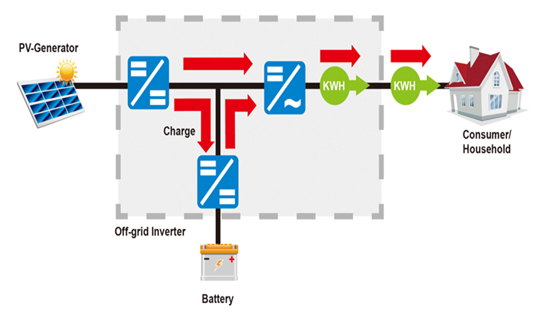 Off grid system
(2) What is a hybrid system?
A hybrid energy system usually consists of two or more energy sources used together to provide a better energy supply balance. For example, SOPOWER MRS series hybrid inverter, a solar electric (pv) array could be coupled with a generator, which would create output from the generator when utility is power off, solar is absence, making your home with uninterruptible power supply. Hybrid off grid systems can make more economical sense than solar or generator alone, where total grid independency is required.
Likewise, if consumption exceeds PV energy, the inverter will take extra energy from the utility grid. In absence of sun, the inverter will, depending on the energy consumption, use energy solely from batteries or take energy from the utility grid.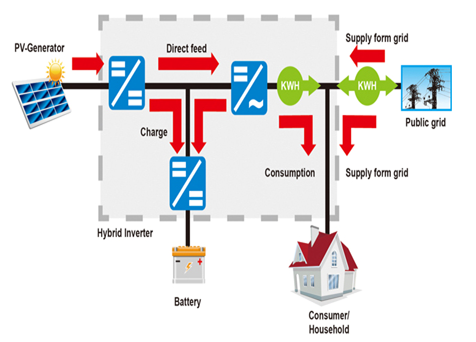 Hybrid system
(3) What is an on-grid or grid-tied system?
An on-grid solar photovoltaic system refers to a system, which is only connected to a utility grid. When solar energy is available, the system will sell the energy which generated by the sun back to the utility grid.

On-grid or Grid-tied system